ADVANTAGES, FEATURES & BENIFITS
Can be used on green (fresh) and cured concrete.
Provides long-lasting internal waterproofing and moisture blocking from positive and negative sides.
Reduces water permeability through concrete by 2-3 orders of magnitudes when tested @ 200 psi (1.38 MPa) according to CRD-48-92.
Provides concrete surface with Hydrophobicity characteristics: Excellent water-repelling properties that help prevent water, jet fuel, and oil from wetting and saturating concrete surfaces: PAVIX increases water contact angle for concrete surfaces by greater than 90°, see Fig. 1).
Low Contact Angle

High Contact Angle (105o)

Fig. 1: Water contact angles for concrete surfaces comparing control (left) & Pavix-treated (right) using TX-DOT pavement mix design at w/c ratio=0.47
Reduces damages from Alkali-Silica Reactions (ASR) and silicate dusting (see Table 1).
Table 1: Percentage reduction in length change due to ASR according to ASTM C1567 using Iowa DOT C4-WRC20 concrete mix design at various w/c ratios
Type of Aggregate

w/c ratio

0.39

0.43

0.47

Non-Reactive (Ames Mine)

43

42

26

Reactive (Platte River)

28

20

24
Reduces ice adhesion (shear testing) by up to 90% (see Fig. 2) and hence reduces the consumption of deicing salts by 50-60%.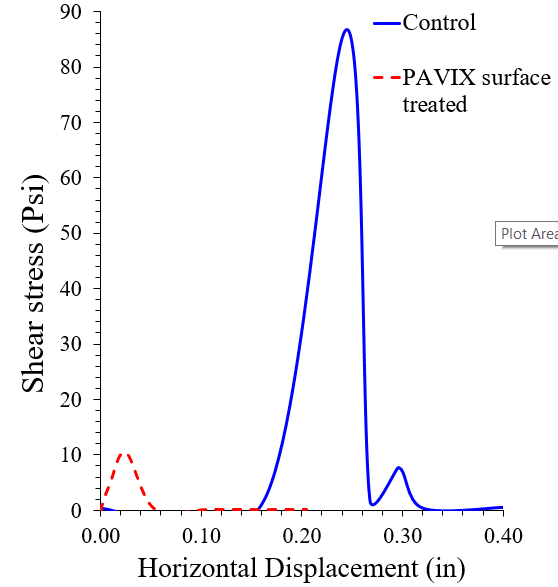 Fig. 2: Ice Adhesion Test Results comparing control (blue) & PAVIX-treated (red) using TX-DOT pavement mix design at w/c=0.43 using Modified Direct Shear Apparatus (Geocomp SheraTrac-II)
Reduces damage caused by repeated freezing & thawing cycles (see Fig. 3).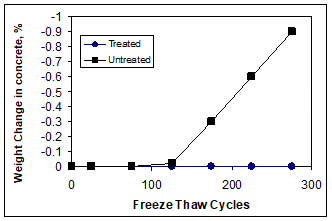 Fig. 3: ASTM C666-97: Freezing & thawing effect on treated & untreated when PAVIX applied on cured concrete samples
Reduces penetration of chloride ions from de-icing salts & increases concrete electrical resistivity by a percentage over 90% (see Table 2).
Table 2: Total charge passed & percentage reductions from results using ASTM C1202 on Iowa DOT C4-WRC20 Concrete Mix Design with w/c ratio=0.4
Parameter
Control
PAVIX @ NaCl Side
PAVIX @ NaOH Side
PAVIX @ Both Sides (NaOH & NaCl)
Charge Passed (Coulombs)

646

13
18

60

% Reduction

98%
97%

90%
Minimizes concrete scaling due to freezing and thawing in the presence of deicing chemicals (see Fig. 4-a & Fig. 4-b).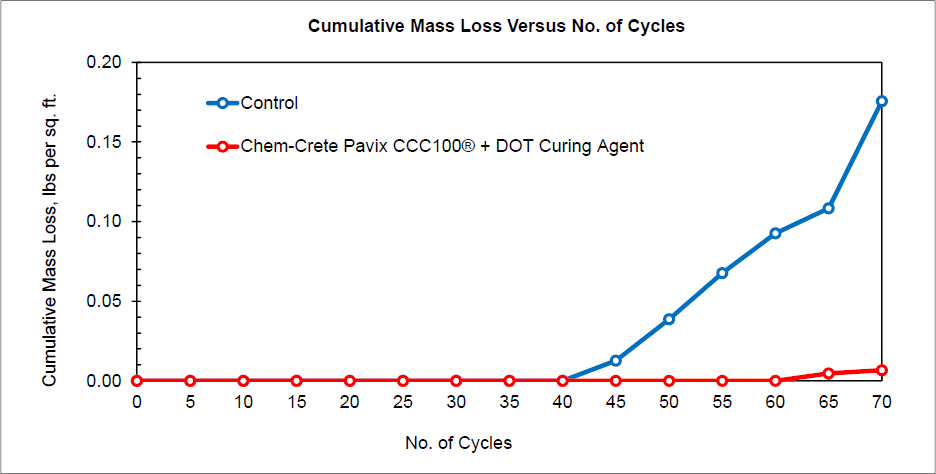 Fig. 4-a: ASTM C672-98: scaling resistance when PAVIX is applied on green concrete surfaces
exposed to deicing chemicals, this test shows 94% reduction in mass loss at 70 Freeze-Thaw cycles.
Control sample without PAVIX and curing compound

Sample with PAVIX and curing compound

Fig. 4-b: concrete lab samples show scaling effect on PAVIX treated and untreated concrete surfaces after 70 cycles of freezing & thawing
Protects reinforcing steel bars against corrosion without negative effects on existing steel cathodic protection.
Self-healing: seal cracks up to 1/16th inch (1.5 mm).
Prevents or minimizes early joint failure or deterioration.
Maximizes joint sealant adhesion by reducing moisture content.
Helps concrete stay whiter & brighter (Albedo Surface).
Eliminates fungal and microbial growth according to anti-fungal and microbial test method MIL-SDD810G.
Increases concrete density of high porosity concrete specimen by 6-7 % (TX DOT mix-design, w/c=0.5 using ASTM C642-9).
Increases coating adhesion by 13% (ASTM D7234 using high porosity, moderate-strength laboratory concrete specimen, w/c=0.48).
100% green, environmentally friendly, safe & non-toxic.
Can be applied vertically, horizontally and overhead.