ADVANTAGES
An innovative sustainable solution to moisture-related distresses that is compatible with most water-reducers and air-entrainment materials used in concrete mix design.
A long-term protection internal waterproofing and moisture blocking for Portland cement concrete (PCC) against water penetration, in all its phases (vapor, liquid and ice).
A dynamic crystallization system that interacts with water in its three phases which enhances water management (reduced liquid and water vapor movement within the hardened PCC and reduced ice adhesion).
Reduction in PCC capillary porosity and water permeability (by 2-3 orders of magnitudes).
Reduced jet fuel and oil penetration through concrete surfaces.
Hydrophobicity characteristics that help preventing water from wetting and saturating concrete surfaces.
Reduced ice adhesion and hence reduced consumption of deicing salts & agents.
Preventing freezing of freshly cast concrete: MCETM has a distinguished and unique thermal behavior of preventing water freezing in MCE-dosed fresh concrete under severe continuous freezing conditions. Figure 1 shows that the temperature of MCE modified fresh concrete remained above freezing temperature for about 2 months (when the concrete is continuously subjected to -50oF), while the temperate of the control sample dropped to a value below freezing within three days.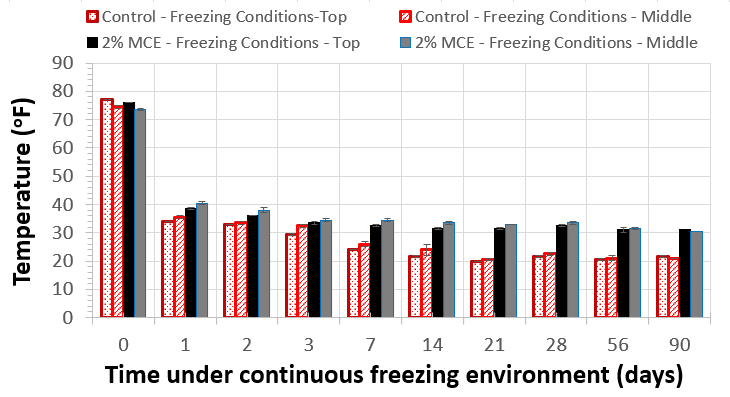 Fig. 1: Concrete thermal performance under continuous freezing environment, reporting the temperatures at two positions: top (0.5 inch below surface) and middle (1.5 inch below surface) for a concrete with a mix design of IDOT C4, comparing control sample with concrete mixed with 2% MCETM. The tests were made in freezing chambers used for ASTM C-666, with the temperature of the chamber adjusted to -50oF and remained constant to create more severe freezing conditions.
Improved freeze-thaw durability. Experimental data of IDOT C4 mix concrete samples with 2% MCETM indicate a reduction of mass loss by 91.6% and an increase in the relative dynamic modulus by 20.3%. The results of % mass loss presented in figure 2 are from an independent laboratory testing according to ASTM C 666.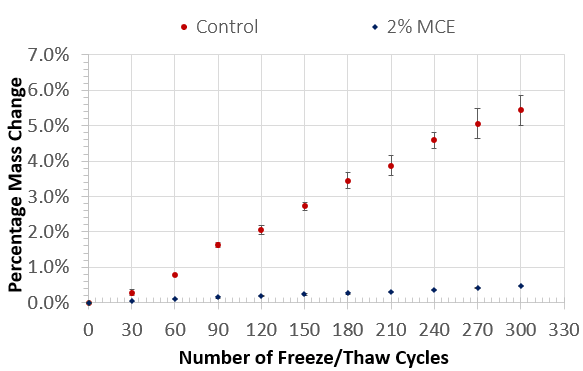 Fig. 2: Increasing resistance to freeze thaw cycles with MCETM at 2% of cement weight. According to ASTM C 666 using IDOT C4 PCC mix.
Reduced chloride ion penetration from deicing salts, increased concrete electrical resistivity by a percentage over 90% and reduced associated steel corrosion and paste degradation.
Reduced Alkali Silica Reactivity (ASR) problems and silicate dusting: The percentage reduction in length change due to ASR in 2% MCE- dosed concrete including reactive aggregates can be in the range of 45-77% (according to ASTM C1567, 28 days testing). Fig. 3 shows that MCETM meets the requirement of ASTM C1293 (long term testing) by not going above the 0.04% ASTM limit (for one year), see Fig. 3.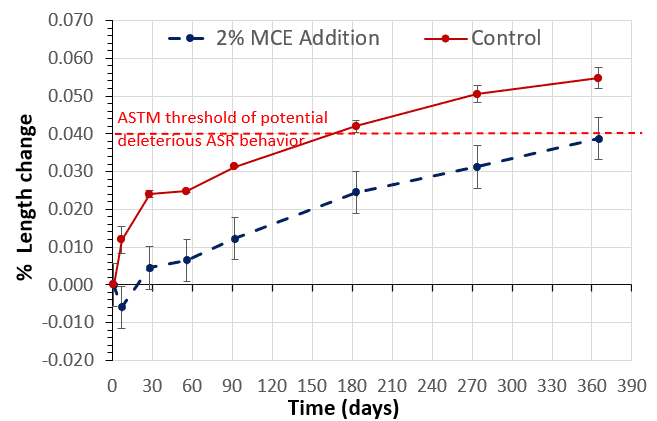 Fig. 3: The results of the long-term ASR experiments using the concrete-prism (ASTM C1293) for reactive coarse aggregates showing results for control specimens made with reactive coarse aggregates of Knife River compared to those for MCE-Dosed specimens. The standard errors of the replicates are shown as error bars. Also shown is the ASTM threshold indicative of potential deleterious ASR behavior (dashed line).
Reduced fungal and microbial growth according to anti-fungal and microbial test method MIL-SDD810G (reduced mold associated problems).
Enhanced workability and finishability: the effective compounds of MCETM

enhance concrete slump as indicated in fig.4. The results in Fig. 4 are for concrete mix designs with and without fly ash, obtained by an independent laboratory testing
Fig. 4: Enhanced workability and retention of concrete with 2% MCETM
Reduced shrinkage and surface cracking.
Helps concrete stay whiter & brighter (Albedo Surface).